Salesian Spirituality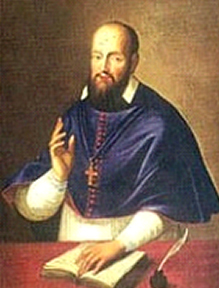 Salesian Spirituality is a practical everyday spirituality for living in the modern world as learned, lived and shared by St. Francis de Sales (1567-1622) and St. Jeanne de Chantal (1572-1641), spiritual friends. Salesian spirituality gives expression to a way to journey in the spiritual life as we embrace the duties of our state in response to the universal call to Holiness – in the words of St. Francis de Sales to "bloom where you are planted." It's a "spirituality of the heart," as relevant today as in the time of St. Francis de Sales himself, an all-embracing, down-to-earth spirituality for everyone.
As a Christian humanist, St. Francis de Sales believed that all life could lead to God. Salesian Spirituality calls every person to the holiness of "being who you are and being that well," whatever your walk of life. Encountering daily circumstances with an open heart and a listening ear holds a particular devotion to the will of God lived along the path of the "little virtues." The virtues of humility, gentleness, simplicity, patience, optimism, interiority and respect presented in the realities of daily living are the Salesian way of living the Gospel with great liberty of spirit and deep joy. It is a way of hope assuring us that God loves us and wants to be with us.
Central to the spirituality of St. Francis de Sales (1567-1622) is his vision of Man, the perfection of the universe, mind the perfection of man, love the perfection of the mind, and charity (love of God) the perfection of love. (1)
At its core, the tradition of Salesian Christian Humanism embraces an understanding of human life as guided always and everywhere by love, imbued with an imperturbable optimism, lived with humility and gentleness, and expressed in words of inspired common sense. It promotes a practical holiness continually attuned to the presence of God, particularly as this is manifested in prayer, in the teachings of Scripture and Tradition, in the duties of one's vocation or state-in-life, and in the present moment of each and every day.
The essence of the spirituality can be found in the "Introduction to the Devout Life," a book written by St. Francis de Sales at the beginning of the 17th century. The book, often referred to as a spiritual classic, contains the collective wisdom of the first sixteen centuries of the Christian experience and is divided into five parts:
1. Instructions and exercises needed to lead the soul from its first desire for the devout life until brought to a full resolution to embrace it;
2. Various instructions for elevating the soul to God through prayer and the sacraments;
3. Instructions on the practice of virtue;
4. Necessary councils against frequent temptations;
5. Exercises and instructions for renewing the soul and confirming it in devotion.
St. Francis de Sales wrote another spiritual classic, "Treatise on the Love of God." It is comprised of twelve books written for individuals more advanced in the spiritual life and addresses topics such as the human tendency to love God, meditation and prayer, an explanation of the history of Divine Love, the difference between benevolent and complacent love, and affective and effective love. The "Treatise on the Love of God" focuses on the fundamentals of Francis' science of love of God and the application of these basic principles. Francis' spirituality is found in numerous other writings including many of his sermons and letters.
By following Salesian spirituality a person seeks to become a child of God by imitating Jesus Christ, in the context of interior prayer which allows God's light to illumine our intellect and His love to fill our heart. A Salesian is a disciple of "De Sales," who lives in the context of his words: "Let us be who we are, and be that well, so as to honor the Master Worker, whose handiwork we are."